By
GreenEyedLillies
on January 16th, 2009 . Filed under:
Bakeries
.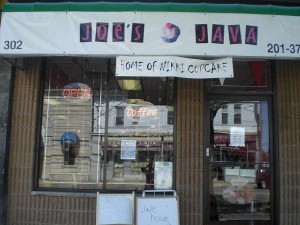 Joe's Java – Home of Nikki Cupcake
We received this email from ATC Reader Nikki…
i was just reading your cupcake blog and you have a little story on the petite cafe. yes their cupcakes are good, and i frequent there up until about a year ago i stumbled upon a real cupcake gem, just 5 minutes away from them. it's called joe's java, and they have some of the best cupcakes i've ever had. the owner really takes her time when it comes to cupcakes. not only to they have cupcakes they have a coffee called cupcake and a hot drink called "the nikki cupcake". they donate cupcakes to a lot of local events too. to top it off their cupcakes are $2 each!
Joe's Java is located in Lyndhurst, NJ. Please visit Joe's Java for more information.