By
GreenEyedLillies
on January 16th, 2009 . Filed under:
Bed, Bath, Body
.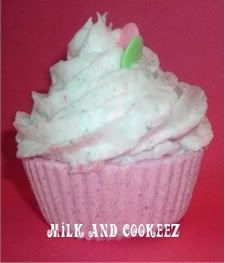 Cupcakz are a bath bomb "cake" with a whipped soap "frosting". While these cupcakes are nothing new, Milk and Cookeez have made them their own. The bath cupcake recipe uses 4 skin nourishing ingredients in the base, shea butter, sea salt, Epsom salt, and finally organic whole milk (also found in our bath fizzies), among the other necessary ingredients to make a bath bomb.  The "frosting" is a whipped soap a natural shea m&p soap mixture, and fragrance. 
Available at Milk and Cookeez.