By
GreenEyedLillies
on January 15th, 2009 . Filed under:
Bakeries
.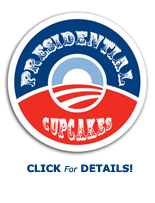 Magpies Presidental Cupcakes January 19th and 20th only!
The Hawaiian: Pina Colada Cupcake
Mr. Chicago: Marble Cupcake with Chocolate frosting
The White House: Fresh Raspberries in White Cake topped with Blueberry Buttercream
Order a box or platter for your inaugural celebration.
Please visit Magpies for more info.