By
GreenEyedLillies
on January 13th, 2009 . Filed under:
Jewelry
.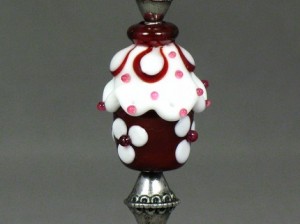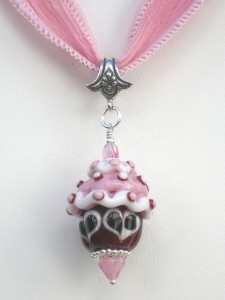 RockerJewlz and the Green Glass Café have combined artistic forces to create the most incredible line of lampwork glass cupcakes to date!  Julie Vallejo and Payton Jett have shared their passion for glass art the past 2 years and it has evolved into an artistic chemistry that has resulted in a magical bond.
Due to their love of all things cupcake, Julie, a jewelry designer, began to request custom cupcakes of Payton, wondering if her imagination could become reality.  Payton, a glass artisan, accepted any and all challenges presented to her, teaching Julie about the intriguing properties of glass along the way.  Payton knew how glass tended to move and morph beneath her torch's intense flame but even with that knowledge,  she was still always in awe as to what the glass would reveal to her when lifted from its cooled oven.
This mysterious quality convinced Payton she must never assume what results would form and thus reveled in the thrill of playing with glass requests from artists like Julie, who would take her inspiration and draw it on paper and tweak the design with Payton until they agreed on the finest detail of color, shape, size, harmony and contrast.
With these limitless edges of imagination, these two artists have in a sense created a marriage of passion and dedication to discovering the next best thing in glass and therefore, custom jewelry design.  It is a rare gift for these two artisans to have found such partnership and a gift to share.
RockerJewlz and the Green Glass Café are thrilled and excited to announce the revolutionary Deluxe Fantasy Dream Cupcake Jewelry!  These cupcakes are bigger than ever measuring up to 26mm versus the more commonly known average sizes   Truly one of a kind (OOAK), these glass cupcakes are loaded with patterns and color combinations never seen before in the glass art world!  Plaids of raspberry, dark pink and red…black and white hearts set against mahogany colored cake draped with dark pink layers of frosting with rings of color surrounding the sprinkles.
If you have any experience with glass cupcakes, you know these are not your every day cupcake bead descriptions…we just know your mouth must be watering by now. So come and satisfy your curiosity by joining us online to obtain finished Fantasy Dream Cupcake jewelry from Julie at RockerJewlz and experience the thrill of designing your very own custom cupcake beads with Payton at the Green Glass Café.