By
GreenEyedLillies
on January 2nd, 2009 . Filed under:
Cupcake Ideas
.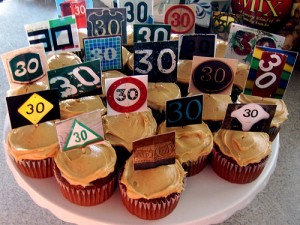 30th Cupcakes photo on flickr from jamiemcquary.


Since my 30th birthday is coming up soon. I thought that a 30 things for $30 or less wish list would be a cute idea…especially if they are cupcake related.
Do you have a product that you would like to see on the list? Have you seen something that would be perfect? If so please leave a comment here with a link to the item or send me an email.
Please come back to ATC on January 18th to see which items made the list.