By
GreenEyedLillies
on December 24th, 2008 . Filed under:
Contests
,
Decorating
.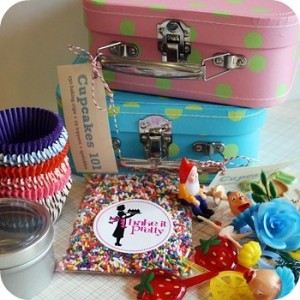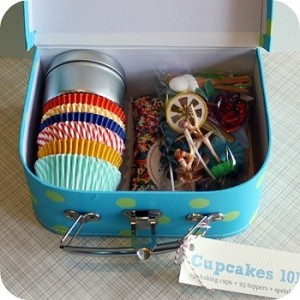 Cupcakes 101 GIVEAWAY
Need some serious schooling in the art of the cupcake?  The Cupcakes 101 Kit includes everything you need for a crash-course in cupcake decorating.  Each kit includes baking cups, novelty toppers, and sprinkles.  Everything is bundled up nicely in a small stitched suitcase to make a pretty sweet gift. 
The Cupcakes kit includes the following:
*Approx. 150 standard baking cups in assorted striped and solid colors.
*Over 25 traditional toppers in assorted styles (clowns, ballerinas, flowers, pinwheels, smiley face, gnome, deer, ice cream, strawberries, etc.)
*4 ounces of Rainbow Jimmy Sprinkles with silver storage tin
*Wrapped and tagged in a small paperboard suitcase in pink with green polka dots.
Do you LOVE it?! Wouldn't it be SWEET to decorate some delicious Cupcakes with this?! Leave a Comment at The Cupcakes Club and it could be yours on 12/29/08 (only one comment please-we have to delete multiple comments to keep it fair) Also available for purchase at "Bake it Pretty" website.