By
GreenEyedLillies
on December 20th, 2008 . Filed under:
Bed, Bath, Body
.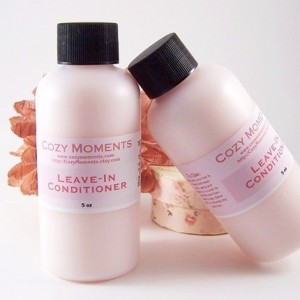 Frosted Pink Cupcake LEAVE-IN Hair Conditioner – with Shea Butter and Avocado Oil (5 oz) $7.25
Our Leave-In Hair Conditioner is designed to recondition and revitalize the look and texture of your hair with no flaky build up or residue, even when used daily! This conditioner is loaded with emollience for added shine, fullness and color definition. Blended with avocado oil, glycerine and conditioning agents for easy comb through, it will impart a healthy glow and added hold.
To Use: Apply after your hair is rinsed and towel dried, using your fingers or a comb to coat the hair from scalp to tips. Do not rinse out. Either style or naturally dry your hair.
Scent: Frosted Pink Cupcake – A deliciously decadent moist pink cupcake topped with double whipped sugary pink frosting. YUM!
Weight: 5 ounces
Packaging: Your Leave-In Hair Conditioner comes to you in a darling frosted bottle with a black cap.
Available at Cozy Moments.