By
GreenEyedLillies
on December 19th, 2008 . Filed under:
Books
,
Decorating
,
Kitchen
.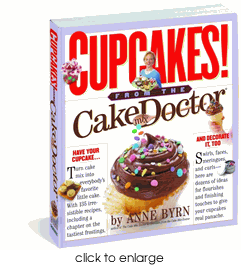 Cupcakes! from the Cake Doctor Cookbook by Anne Byrn
Best selling cookbook author Anne Byrn takes cupcakes to the next level. Proving that cupcakes can do everything a big cake can do, only better.
Here are 135 dazzling recipes – and you'll never believe they started with a mix.
Make Easter Basket cupcakes, Pilgrim Hats, Halloween Spider cupcakes, Snowman cupcakes, Jelly doughnut cupcakes, Fortune cookie cupcakes and a Cupcake wedding cake.
Muffin recipes, too!
Available at The Kitchen Store for $14.95!