By
GreenEyedLillies
on December 18th, 2008 . Filed under:
Baby
,
Books
,
Crafts
,
Stationary
.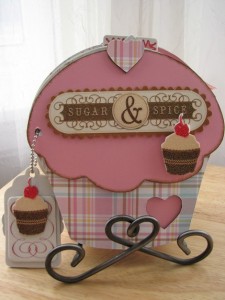 Scrapbook Keepsake Album Kit – Sugar and Spice Cupcake – Limited Edition $22.00
Preserve your sweet memories in this adorable cupcake-shaped album.
Use this complete kit to make the 7 page (14 layout) keepsake album pictured here. Album measures approximately 6 x 6″ at its widest points. A lovely present or treasured gift for yourself.
Kit contains the cupcake chipboard album, patterned papers, cardstock, diecuts, ribbons, embellishments, etc., etc!
LIMITED EDITION – There is a set number of these kits made. Once they are gone, they will not be re-issued.
Packaged and ready to ship.
Included are instructions with color pictures and descriptions. Tools best to have on hand – brown ink, scissors, cutting blade (like an Exacto), hole punch or crop-a-dile and strong adhesives
Available at Scrap Can Do.