By
GreenEyedLillies
on December 18th, 2008 . Filed under:
Home Decor
,
Kitchen
.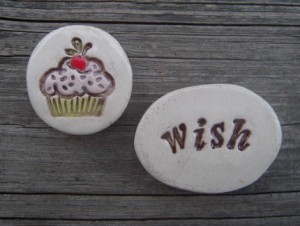 Lit bits of Mud Hutt – Cupcake Celebration Magnet Set $8.50
simple and sweet! this magnet set consists of the 2 little magnets you see here. The cupcake magnet measures 1.25″ and the WISH magnet is just under 2″ wide. They each come with a super strong magnet on the backside.
Yummy pink cupcake & a joyful WISH! Who can resist??? not me!
**** this set has been discounted because I found a tiny hairline crack on the lower left side of the "wish" magnet. It's very tiny, and doesnt go thru but it still bugs me. Enjoy! ********
Available at Mud Hutt.