By
GreenEyedLillies
on December 16th, 2008 . Filed under:
Baby
,
Clothing
.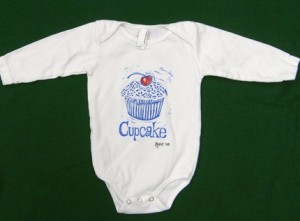 Handprinted Onesies on 100 Percent Cotton American Apparel in white for boys or girls size 6-12 month $20.00
Babies don't need much, but just for fun give them a hand-printed onesie with a cupcake or puffin on it. I design and carve the images into a block of linoleum, and hand-print–burnish the inked surface onto the 100% Ammerican Apparel fabric. Select the one you want to buy.
They launder wonderfully and can be handed down from baby to baby. No other babies on the block will have my work on their cute little bellies.
Available at Byrdcall Studio.