By
GreenEyedLillies
on December 16th, 2008 . Filed under:
Gifts
,
Home Decor
.
And the Gold Cupfake goes too…
you!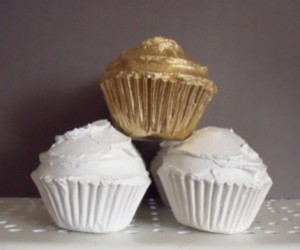 Gold Cupfake $5.00
The ultimate treat.
It's low cal, low carb, wheat free, dairy free and now it lasts even longer!
This is a mini plaster cupcake or rather, a cupfake. Painted with gold and looking good enough to eat.
Who doesn't love a cupcake? This sculptural rendering keeps the thrill alive.
Keep one in your pocket or bag for emergency pick me ups.
Give the golden cupfake as a trophy to your favorite baker.
Every gold cupfake is an individual and frosting patterns vary.
They each measure about 2 inches across and stand just under 2 inches tall.
Available at Paper Librarian.