By
GreenEyedLillies
on December 16th, 2008 . Filed under:
Accessories
.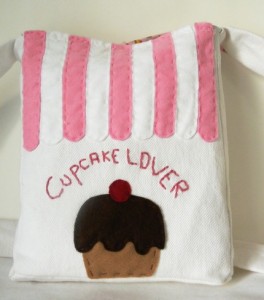 Cupcake lover small bag OOAK $46.00
This small one of a kind bag is made of sturdy white denim, embellished with free stitching and felt appliques, and doubled with a exquisite pink cotton printed with cupcakes lined with gold. There is a big pocket inside, doubled with denim for more resistance. The back is embelished with an applique that was fused for minimum fraying. It closes by two straps of the inside fabric that you knot together.
Perfect for all cupcake lovers! Shout it on the streets with this bag!
Size: 9'tall, 7'5″ wide, 2′ sides, and a strap of 48′
Available at La Baleine à Plumes.