By
GreenEyedLillies
on December 16th, 2008 . Filed under:
Decorating
,
Kitchen
.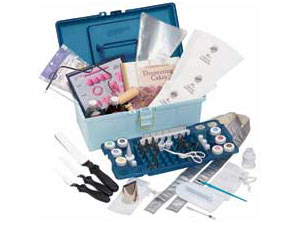 101 piece Decorating Set $144.95
Inside this caddy is a complete collection of tools for decorating cakes, cupcakes, cookies and more. The caddy is a great way to organize, store and carry everything from tips and couplers to spatulas and brushes. Everything stays upright and in its place so there are less spills and messes. The 101-piece tool caddy collection includes:
Eight 0.5-oz. Jars of Icing Colors (Yellow, Red, Brown, Violet, Pink, Royal Blue, Black, Kelly Green)
Three Couplers (2 Standard, 2 Large)
Two Tip/Coupler Dishwasher and Storage Bags
Tip Cleaning Brush
24 Disposable 12-in. Decorating Bags
Three Professional Reusuable Decorating Bags (8-, 10- and 16-in.)
Four Tip Covers
Tip Saver
Flower Nail #7
Three Spatulas (8- and 13-in. Angled and 8-in. Tapered
Flower Lifter
Garland Marker
Decorating Cakes Book
20 All-Purpose Disposable Decorating Gloves
Practice Board with Patterns
Two Bake-Even Strips
Clear Vanilla and No-Color Butter Flavors (8-oz.)
Cake Leveler
Quick Ease Roller
Easy-Glide Fondant Smoother
Decorating Brush
Round Tips (#1, 2, 2A, 3, 12)
Star Tips (#16, 18, 21, 32)
Basketweave Tip (#48)
Leaf Tips (#67, 352)
Petal Tips (#102, 103, 104, 125)
Drop Flower (#2D)
Cake Icer (#789)
Available at the Betty Crocker Store.