By
GreenEyedLillies
on December 13th, 2008 . Filed under:
Accessories
,
Kids
.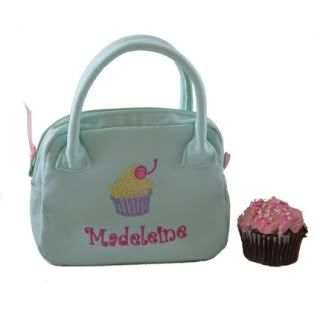 Child's Purse – Lil Goody Bag, CUPCAKE $24.00
Our Lil Goody Bags are a perfect treat for the sweet little girl in your life!
Each bag is custom made and features an embroidered goody of your choice (cupcake, cookie, or ice cream cone) and the child's name. The bags are lined with scrumptious petit fours fabric. They measure approximately 6.5 x 5.5 inches and have a zippered opening.
Choose from six different bag colors. (This listing is for the CUPCAKE goody bag. Check the shop if you are interested in a different goody.)
Available at dirtsa.