By
GreenEyedLillies
on December 7th, 2008 . Filed under:
Bed, Bath, Body
,
Contests
.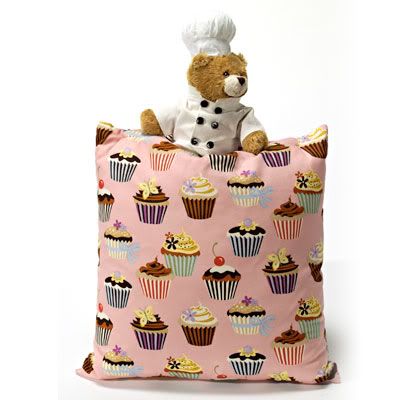 PILLOROO Cupcakes Pillow GIVEAWAY!!
This is TOO cute! From PILLOROO, The Cupcakes Caravan Pillow! This yummy pillow HIDES a cute 7 inch chef beanie bear. The BEST part?!  All the other goodies you can hide in its deep, hidden pouch–Hide a gift card, jewelry… whatever extra special present you have this year, giving it in a Pilloroo will make it more FUN!  The soft and cuddly pillow is 14 inch square with a 10 inch x 11 inch deep hidden pocket. Take a look at the Pilloroo website (pillow + kangaroo= pilloroo!) to see more fun! Leave a comment @ The Cupcakes Club and winner to be announced 12/10/08.
Good luck!