By
GreenEyedLillies
on December 2nd, 2008 . Filed under:
Books
,
Gifts
.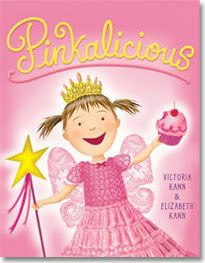 Pinkalicious $34.95
(Hardcover)
Author: Elizabeth Kann
Author: Victoria Kann
Illustrator: Victoria Kann
ISBN:9780060776398
This sparkling picture book, filled with such favorites as pink bubble gum, pink peonies, pink cotton candy, and pink fairy princess dresses, celebrates all things pink while showing that being yourself is best of all.
Ages: 5 – 8
38 pages (size: 8.5″ x 11″)
Add a photo, create a dedication, and we'll do the rest. You'll create a unique gift – A Personalized Children's Classic – they'll treasure forever.
You can add any photo you want. Perhaps one of yourself or one of your child. Dedication page photos will print in full color – click "See Completed Book" for a preview.