By
GreenEyedLillies
on December 1st, 2008 . Filed under:
Bakeries
.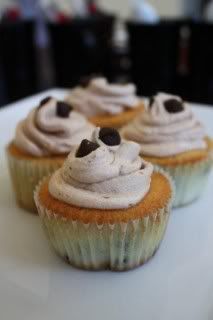 Chip Off the Ol Block One Dozen Chocolate Chip Buttercream Cupcakes $24.95
OMG! I can't say enough about this Cupcake!
So rich…soooo creamy…and full of imported SemiSweet Chocolate Chips! Topped with our Chocolate Buttercream Icing. You will fall in love with these!
This list is for 12…one complete dozen…so you can share during the holiday season…if you dare!?!
Available at Cakes By SugarPlums & SugarPlums CupCakery.