By
GreenEyedLillies
on November 22nd, 2008 . Filed under:
Books
,
Crafts
,
Stationary
.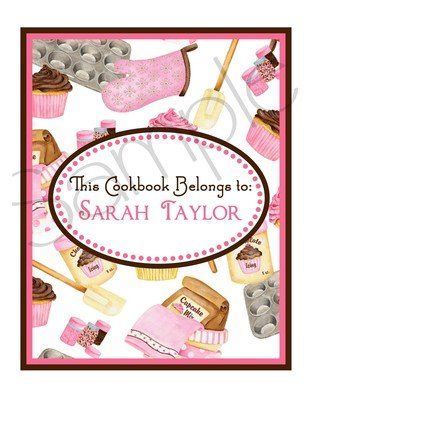 Personalized Stickers, Bookplates, Ex Libris, Cupcake Baking, Kitchen, Cookbook, Labels, Tags, Seals, Library, Reading, Books, Set of 8 LARGE Bookplates $10.50
These stickers are so cute and great to use for labeling all of your books. It's an extra special way to personalize your special library collection( not to mention when you loan someone a book…they know who to return it to)! Use them for your own works or use them for all of your childrens books. They are even great to give as a gift to a new mother to put on all of her baby's first books she receives. These are priced per set and each set comes with 8 LARGE bookplates that are 4″ x 5″. You can keep the wording I have or you can customize it ! These stickers are printed on HIGH QUALITY LABELSTOCK!
Also available…
Personalized baking stickers, Cupcake, Bowl, Spatula, sprinkles,cooking, Labels, Tags, Seals, Set of 12 $5.95
Personalized cupcake stickers / Strawberry / Baking/Cooking/ Labels, Tags, Seals, Set of 12 $5.95
Available at Littlebeane Boutique.