By
GreenEyedLillies
on November 11th, 2008 . Filed under:
Jewelry
.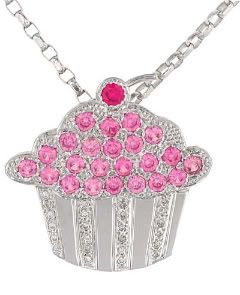 At AJ's, we pride ourselves for the custom design work that we do. We constantly receive orders for original pieces, to be made for that special someone. Some are so unique, we're sure no one else, anywhere in the world, will be seen with it. After all, it would be an idea, straight from a person's heart and mind. You design, we create!
Mr. Jason Gonzalez came up with an interesting idea for a diamond pendant. His inspiration was his girlfriend, whom he referred to as "cupcake." The piece, was that itself… a cupcake. As he explained this to our Custom Design Department, the jeweler, the one who'd actually be working on the piece, began to make a small sketch of a cupcake. 

The jeweler decided he wanted to be more specific in the illustration, therefore turned to the technical department, requesting a picture of a complete cupcake. A digital image was instantly found and printed for Jason's assessment. In addition, the jeweler made some alterations, while determining where to insert any stones requested. The jeweler showed Jason a variety of designs, as well as calculating the cost of the piece. After sketching the perfect model, with Jason's budget in mind, they both decided to go with diamonds, synthetic pink sapphires and a synthetic ruby.                                               

 After, cutting out a raw white gold piece into the shape of a cupcake, the jeweler calibrated the synthetic pink sapphires, giving it the effect of pink icing on the cupcake. He then, carefully set each diamond into the gold, so as to show the cupcake's paper liner design. The last stone to be set was the synthetic ruby, appearing as the cherry on top.

 When Jason saw it, he was astonished. It was like the jeweler took the idea in Jason's mind and made it ten times better than that. He knew his cupcake would really appreciate her new diamond cupcake pendant, as well as be grateful for him.