By
GreenEyedLillies
on November 6th, 2008 . Filed under:
Baby
,
Crafts
,
Cupcake Ideas
,
Holidays
,
Photos
.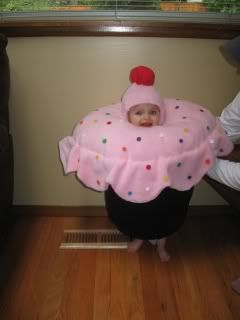 Katie Skelton's Photos – Ruby Cupcake
We received this email and photo from ATC Readers Katie, Garth & Ruby…
"Just wanted to share a picture of our baby girl Ruby's first Halloween costume. I searched high and low and couldn't find a cupcake costume so I went ahead and made it myself. I made the top out of fleece and pillow stuffing and glued felt polka dots for sprinkles. The bottom is made from two metal hoops with chocolate brown corduroy stretched over them.
 
Ruby is 8.5 months old and can't eat candy so instead of trick or treating we went to each of our neighbors and handed out cupcakes!"
Awww! Thanks for sharing! She is so cute!