By
GreenEyedLillies
on November 2nd, 2008 . Filed under:
Kids
,
Toys
.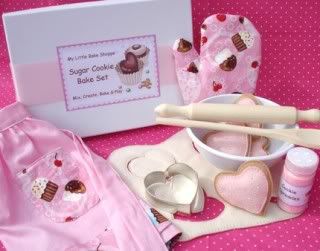 Child Sugar Cookie Bake Set $37.50
Little girls can imitate real life with this complete bake set. Start by mixing up the dough, roll it out, cut the shapes, bake, decorate and serve. Elements for every step of baking sugar cookies are included and when all the work is done, serve the cookies for tea on the tray!
Set includes:
Plastic bowl, wooden spoon, rolling pin, sugar cookie dough with four cutouts, heart shape cookie cutter, oven mitt, apron, sprinkles, four finished sugar cookies, and sturdy storage box with a top that doubles as a cookie sheet and serving tray.
Each fabric element of this 17 piece set is stitched. Heart cookies measures appx. 3 1/2" and are made of soft felt. Decorated cookies have pink felt icing and bead sprinkles. The sweet little apron has a heart pocket to sneak in a cookie when no one is looking! Oven mitt is padded, but not intended for use on hot items. Cookie sprinkles are in a plastic shaker container that is sealed shut with industrial glue. Bowl measures 6" across and rolling pin and spoon measure 10" each.
Available at ae baby.