By
GreenEyedLillies
on October 23rd, 2008 . Filed under:
Books
.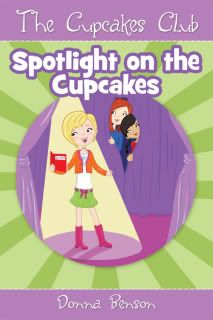 Just Released! The Cupcakes Club #3, "Spotlight on the Cupcakes"
"Opening night jitters at the school play and an election for 6th grade class President…will the girls from The Cupcakes Club keep their cool or melt under the spotlight?" You can get it here. So, what about you? Have you had to deal with running in a class election  or being in a  school play? How did you do? Were you nervous? Did you find out what it's like to campaign for office? Have you ever been in the spotlight?
Congratulations on your third Cupcakes Club book!
Love, All Things Cupcake