By
GreenEyedLillies
on October 21st, 2008 . Filed under:
Bakeries
,
News
,
Press
.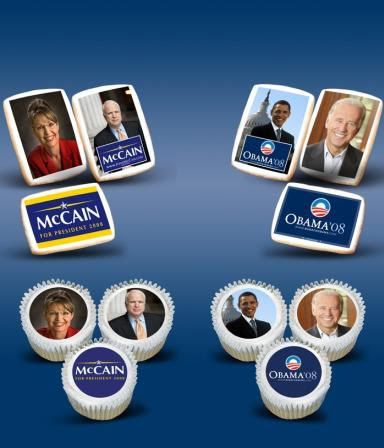 Mrs. Beasley's Political Candidate Cookies and Cupcakes (Photo: Business Wire)
OBAMA WINNING SWEET RACE OVER MCCAIN IN THE MRS. BEASLEY'S CUPCAKE/COOKIES BITE ME POLL 
October 21, 2008
 
Political Candidate Cookies and cupcakes are a hot item with people as the elections close in.
 
Los Angeles, CA—(BUSINESS WIRE)– It's all about sugar, spice…and politics. For Presidential candidates McCain and Obama, cookies and cupcakes in the Mrs. Beasley's Cupcake/Cookies Bite Me Poll are helping to gauge who is more popular. At Mrs. Beasley's, the Obama/Biden and McCain/Palin photo image cookies and cupcakes received high votes from over 3,000 customer purchases from all over the United States. Currently, the poll at www.mrsbeasleys.com shows that Barack Obama is outselling John McCain, 63% to 37%.  Also, Vice Presidential candidate Sarah Palin is outselling Joe Biden, 63%, to 37%.   Obama/Biden surged ahead strongly after the last debate and outsold McCain/Palin 75% to 25% in the week ending October 18th.   The results are updated weekly at www.mrsbeasleys.com.
 
The nation can't get enough of the candidates as the elections approach, and now they are biting into each one with Mrs. Beasley's cupcakes and cookies. The delicious gourmet cookies are made on fresh-baked butter shortbread and contain food coloring inks on vanilla frosting and sugar sheet. The Cupcakes have photo images of the candidates on edible sugar sheets. The cookies and cupcakes are sure to be an ideal conversation piece and/or gift idea for a political or personal party.
 
"At Mrs. Beasley's we're bi-partisan when it comes to political candidates," says Ken Harris the company's CEO.   "But, we are partial to creating cupcakes and cookies and other baked goods that look and taste fantastic.  These treats are fit for a President!"
 
Each order comes with individually wrapped cookies or packaged cupcakes, with a choice between Obama/Biden and McCain/Palin, all offering photo and logo designs. The cupcakes and cookies are available to be shipped nationwide. The Obama / McCain cookies come in packs of 6 for $21.00 and $42 per dozen plus shipping and the cupcakes are priced at 6 for $26 and a dozen is $48 plus shipping. There is also a 20% off discount for fundraisers with an order of 100 or more. The cookies and cupcakes can be purchased online at www.mrsbeasleys.com   They're sure to be the hit of any election event! 
 
Mrs. Beasley's has been a favorite of celebrities and politicians for over 30 years.  Their products have been sent to the last five US Presidents at the White House and their customer list is a who's who of Congressmen, Governors and Hollywood celebrities.   Today, Mrs. Beasley's is glad to take this leap into politics and take on Washington with its deliciously made Obama/Biden and McCain/Palin cookies and cupcakes!
 
For more information on how to order Mrs. Beasley's decadent treats online or by visiting one of the store locations in Southern California, please go to www.mrsbeasleys.com or call 1-800-710-7742 for nationwide delivery.