By
GreenEyedLillies
on October 18th, 2008 . Filed under:
Baby
,
Shoes
.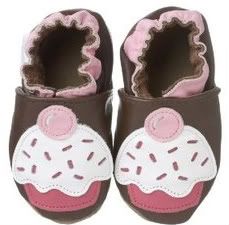 Robeez Infant/Toddler Cupcake Slip-On    $31.95
Keep your baby's feet cute and comfy in the Robeez Infant/Toddler Cupcake Slip-On. These adorable slip-on shoes are decorated with a darling cupcake applique. They are made from soft leather that offers cushioning, breathability, and the flexibility that your baby's developing feet need. The textured suede soles are soft and flexible, and they're designed to help prevent slipping. The shoes' special design keeps them from slipping off your baby's feet. They're perfect for non-walking infants to wear anywhere, or for toddlers to wear indoors. At Robeez, they know baby shoes–and they know what baby feet need. That's why Robeez baby shoes and Booties by Robeez are made from the softest leathers that are both flexible and durable. Robeez shoes feature a remarkable no-slip-off design. And with over 70 styles, there's a pair to match your baby's unique personality. Robeez is always in step with what baby feet need.
Leather upper
Suede sole
Soft leather cushions and protects, flexes with each step, and is breathable to keep feet cool and comfy
Textured suede sole prevents slipping
Pair with onesies, shorts, pants, and skirts for a sporty look
Comfortable and supportive, yet flexible and soft, Robeez shoes are the best choice in footwear for your child's developing feet
Made in Canada
Item # B00119T55U
Available at Endless Shoes & Handbags.