By
GreenEyedLillies
on October 2nd, 2008 . Filed under:
Crafts
.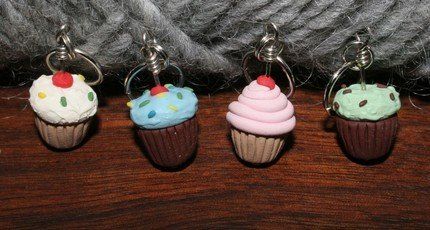 Cupcake Stitch Markers (set of 4) $12.00
Enjoy a tasty cupcake without any of the guilt associated with real cupcakes! These cupcake stitch markers come in chocolate and yellow cake and each have a different color frosting. The cupcakes come complete with sprinkles and/or cherries. Each cupcake is completely unique and hand-sculpted by me.
Would you like another flavor or topping? Contact me! The WeeOnes chef is at your service.
Stitch markers fit up to size US10 (6.0 mm) needles.
Available at WeeOnes.