By
GreenEyedLillies
on September 21st, 2008 . Filed under:
Cupcake Ideas
.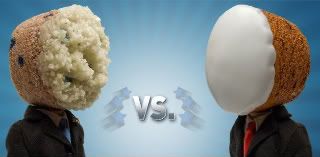 Who will you vote for?
Candidate Cake "Let them eat cake!"
From a hard-working, blue-collar Philadelphia family, the young, fresh-faced, idealistic, cream cheese-iced Candidate Cake is looking to go the distance. Due to his carrot cake nature, he has positioned himself as a "visionary" and runs on a progressive platform: "Cupcakes for only 100 calories." This has been a popular battle cry for anyone with a sweet tooth. And with a constituency like that, Cake is aiming to make winning Taste Debate '08 look like a piece of himself.
OR
Candidate Muffin "I'm tops!"
Candidate Muffin is proud of his humble, made from scratch, beginnings. Now, a long way from the farm, Muffin and his "Breakfast Any Time of Day" Platform have built a constituency that reaches far beyond the Blueberry Belt. And with trademark southern charm, folksy wisdom and 100 calorie a pack this "Muffin of the People" is poised to be America's choice in Taste Debate '08.
Cast your vote now in the Hostess 100 Calorie Taste Debate '08! Voting ends October 7th!