By
GreenEyedLillies
on September 21st, 2008 . Filed under:
Bakeries
,
Cupcake Ideas
.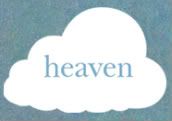 I first learned about Heaven from the most unlikely place, a Visa commercial.
Let me explain, I saw a Visa Small Business commerical with a larger than life cupcake and of course it grabbed my attention. Slap a cupcake on anything and I'm all yours.
Of course I had to know more about the business that involved a giant cupcake as big as a building. I found out that the business is called Heaven, and the owner is a fashion model turned baker.
Heaven is a bakery in Bovina, NY where everything is made by hand using local and organic ingredients as much as possible and of course never any kind of preservatives.
The decor is simple, and beautiful. If Martha Stewart opened a bakery, in my mind it would look like this bakery.
For delicious and nutritious treats & cupcakes, please visit Heaven.