By
GreenEyedLillies
on September 16th, 2008 . Filed under:
Bakeries
,
Wedding
.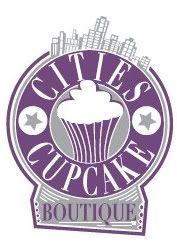 Cities Cupcake Boutique in Knoxville TN bakes up a variety of sweet and savory gourmet cupcakes. They use the freshest butter, cream cheese and high quality ingredients such as Valrhona French chocolate.
Their specialty Salty Cupcake Line appeals to those customers who enjoy savory tastes. The top ten flavors on the menu are Knoxville, Chicago, Washington, D.C., Miami, New Orleans, Orlando, New York, Cincinnati, Santa Fe, and Milwaukee.
Celebrate your corporate or personal gatherings with freshly baked, city themed flavor – Cities Cupcakes!  To add a personalized touch to your special event they can design custom flags to embellish your cupcakes. These special cupcake garnishes require advance ordering.
Cities Cupcake Boutique can create the cupcake wedding tower of your dreams. Imagine a cupcake tower, exquisitely decorated and in the flavor(s) of your choice. Brides and Grooms no longer have to choose only one flavor to share with guests on this important day.
Please visit Cities Cupcake Boutique for more information.