By
GreenEyedLillies
on September 9th, 2008 . Filed under:
Party Items
,
Recipes
.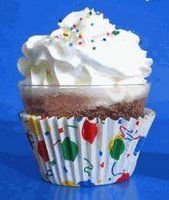 I came across this cupcake shot drink. The Original Cupcake Shot Drink Company that sold Cupcake Shot Drink Kits back in 2004. They give you the plastic cups, designer cupcake wrappers, sprinkles, flavored syrups, and drink recipes. You supply the whipped cream, and drink ingredients.

After my search on where these kits could be purchased came up empty handed I turned my focus on Cupcake Shot, Cocktail, and Drink recipes. Here is a list of a few that I have found…
The Original Cupcake Shot Drink Company if you are reading this…please bring back the Cupcake Shot Kits!!! They look so yummy! I enjoy drinking my cupcakes as much as I like eating them. Thank you!