By
SuperWife
on August 21st, 2008 . Filed under:
Contests
.
Due to unforeseen circumstances, the votes have been recalculated. Your 2008 Miss American Cupcake Winner is…
FLORIDA – Lime Cupcakes with Mango Buttercream!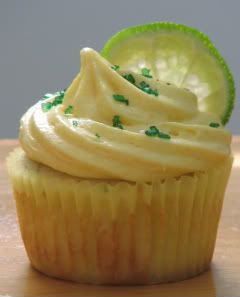 This delectable recipe was submitted by Marta of Sugar Crush Cupcakes.
For the cake:
A basic vanilla cupcake recipe or boxed vanilla cake

1 large lime
For the Frosting:
2 sticks softened butter
1/4 cup milk
1 tsp. vanilla
6+ cups powdered sugar
1 ripe mango
1 lime
Prepare the cupcakes as directed for your basic vanilla cupcake recipe.  Add the zest and juice of a whole lime (if avaliable Key Limes can be used here) to the prepared batter and fold in until it is incorporated.  Bake at 350 degrees for about 15 minutes, or until a tester comes out clean.  Remove from oven and allow to cool.    While the cupcakes are cooling peel and dice one whole mango (about 1 cup).  Place the mango in a saucepan and add the juice of 1 lime.  On medium heat cook this down until the mango has become soft (stiring with a whisk helps this along), about 7-10 minutes.  When the mango peices have all broken down in the pot, transfer to a food processer and blend until smooth.  Set aside and allow to cool.   In a large bowl beat the softened butter until smooth.  Add two cups of the powdered sugar and beat until smooth.  Then add two more cups and beat until smooth.  Then add the milk and vanilla and two more cups of powdered sugar.  Once that is blended and smooth, add the cooled mango puree and blend.  Add more powdered sugar to reach the desired consistency.  Place frosting in a piping bag with a tip and frost the cooled cupcakes.  Decorate with a slice of lime.
Congrats from all of us here at All Things Cupcake, and thanks to all that participated!
Photo of Marta with her prize basket.