By
GreenEyedLillies
on August 7th, 2008 . Filed under:
Decorating
.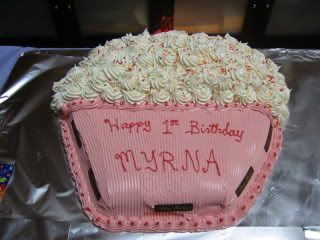 A ATC reader submitted this picture of her daughter's 1st birthday cake…a giant cupcake cake made entirely out of cupcakes!  A friend of her husband, who happens to be a pastry chef, made this cake for them. There are 60 cupcakes under gobs and gobs of yummy buttercream frosting. Since her daughter's birthday party theme was cupcakes, this was absolutely perfect.
Thanks for sharing! It looks so yummy!