By
GreenEyedLillies
on June 25th, 2008 . Filed under:
Other
.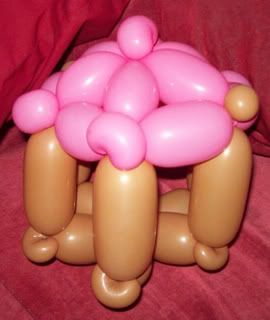 One Tuesday night while we were enjoying "kids eat free night" at our local Pizza Hut, we were approached by the Balloon Man. He asked my 5 year old daughter, "What would you like me to make for you?" Kinley quickly replied…"A Balloon!" Then I asked her what kind of balloon. She said "I want a ladybug balloon." Then the Balloon Man asked her "would you like a big one or a little one?" She replied…"A little one." So the Balloon Man makes her a little lady bug balloon.
Then Kinley tells him to make her sister a balloon too. Well since Kinley is my ladybug and Addi is my cupcake…I asked him to make a cupcake. He said that he has never made one before. So he spent about 5 minutes working with pink and brown balloons. Then he presented the Cupcake Balloon.
The End.