By
GreenEyedLillies
on June 18th, 2008 . Filed under:
Decorating
,
Kids
.
In Abra-Catastrophe, it's Timmy's "Fairy-Versary" and Cosmo and Wanda are celebrating Timmy's year-long secrecy about their existence by throwing a party with a guest list that includes Santa Claus, the Tooth Fairy, and the iron-pumping Jorgen Von Strangle. Magical gifts abound, but the most precious of all is a cupcake that promises the eater one "rule-free" wish. Timmy's teacher Mr. Crocker, ever obsessed with proving the existence of fairies, senses the presence of great magic and tries to claim the cupcake for himself when Timmy misplaces it. While Timmy tracks the lost cupcake, a common citizen, Bippy the monkey, and even Mr. Crocker manage to steal nibbles of the magical cupcake and end up jeopardizing the entire future of the universe. Can Timmy save the world by exploiting the power of truth?
Available at Amazon for $6.99.
What's better than watching a movie about cupcakes? Eating them while you are watching!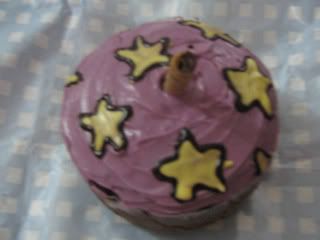 Originally uploaded by luckycakes.
Thank you Gianinna for sharing this with us! ;)