By
GreenEyedLillies
on June 15th, 2008 . Filed under:
Jewelry
.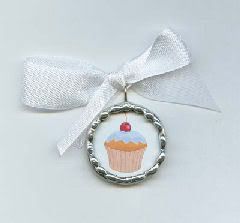 Sweet Cupcake Pendant $23.50
These Sweet Cupcake Pendants are so "kawaii" they will make you smile! Created by Heather Hansen, aka petite purveyor of perfectly pleasant pendants! Add a touch of whimsy to your outfit, wear it as a necklace or bracelet, attach to a pretty present, or just hang in a special place.
kawaii: japanese for cute!
Available at The Silly Wagon.