By
GreenEyedLillies
on June 1st, 2008 . Filed under:
Crafts
.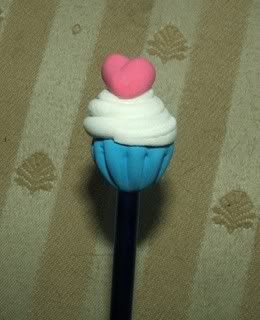 Cupcake Knitting Needles $7.50
These cute cupcake knitting needles will surely put a smile on your face while knitting that special something.
This listing is for the blue wrapper, white frosting, and heart topper cupcakes.
Each pair of knitting needles are aluminum. The cupcakes are made of a light-weight non-toxic modeling material. The cupcakes are securely attached to the needles.
These needles are great to knit with, as the cupcakes are just the right size, and are light-weight, so your needles will not feel heavy while knitting.
You can choose what size needles you would like–anywhere between size 2 and 15. Since the size of the needles will be covered up by the cupcake topper, she will write the size number small somewhere on it (on the lower back, most likely).
*Note*
Each piece is made to order. Meaning, that the items are made after you purchase them.
Also, as each piece is hand made by me, every piece will not be identical; although, she will try to make things look as equal as possible. Thanks!
Available at the Crafty Cupcake Etsy shop.