By
GreenEyedLillies
on May 31st, 2008 . Filed under:
Crafts
,
Kids
,
Party Items
.
Upcoming Events:
Cupcake Workshop!
Mon, June 16th
 
4:30 – 6:00 p.m. (ages 6-12)
6:30 – 8:30 p.m. (teens)
We're making vanilla cupcakes and icing from scratch! And to top off the fun, we'll decorate the cupcakes using piping bags and lots of sprinkles! Everyone designs a creative take-home container to bring home a sample and all recipes.
$65 per student
News & Updates:
•
We are coming to the Hamptons this summer!
Contact them if you're interested in attending a workshop or scheduling a party. 
•
Gift certificates now available!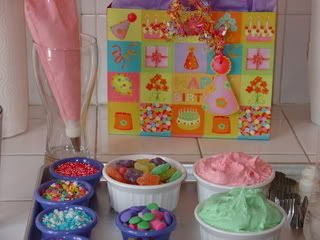 Cooking events just for kids! Their events are designed to teach the fundamentals of cooking in a safe, hands-on and creative environment. Chefs-in-training learn to measure, sift, mix, whip, knead, zest, decorate and do so much more. Kids have so much fun that they don't realize how much their math, science, reading and social skills are improving along the way. By encouraging future foodies to pursue their interests with passion and education, we help to foster a lifelong appreciation for food and nutrition, not to mention a good cupcake! They offer the following services:
Cooking classes 
Workshops
During- and after-school programs
Summer classes
Birthday parties
Special events
Private instruction
Kids' Store coming soon!
Please visit their website, Cupcake Kids! nyc,  for more info.