By
cupcake girl
on May 15th, 2008 . Filed under:
Artwork
.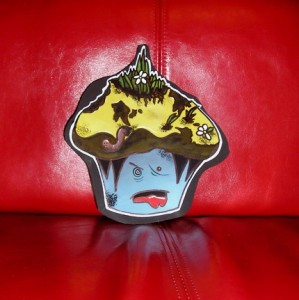 "Left At The Picnic" by gori; $20 on Etsy.com
Description:
This is my newest zombie goRi cupcake character he is done in acrylics on 1/4 inch wood masonite board that measures about 8.5″ x 7.5″. He has lumps of earth on his head, an unhappy earthworm pal, and a bad attitude.

This comes with four strong magnets and a wall hanger on the back so she can go anywhere in the house!