By
GreenEyedLillies
on April 14th, 2008 . Filed under:
Clothing
.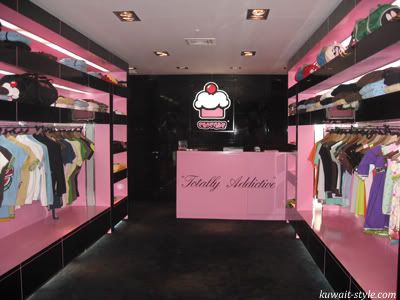 Cupcake Boutique is filled with delicious items for every appetite. The name may fool you into thinking they sell actual cupcakes and assorted desserts. They don't! Cupcake Boutique is a clothing store with most of its merchandise carrying the trademarked Cupcake design.
You'll find adorable customized t-shirts with unique statements on them, the product of the owners' vision. Most statements stick true to the Cupcake with slogans such as "Chubby is In, Thin is Out", "Totally Addictive", and "Sugar Loaded…Watch Out." A wonderful aspect of the t-shirts offered is that they have various styles available, from baby t's to long and loose shirts for body-concious individuals.
The t-shirts are only the beginning of what Cupcake Boutique has to offer to its young and fashionable clientele. They have dresses, long shirts, and a wide selection of bags. It's the perfect place to shop for gifts as it offers an incredible range of clothing. For the newly married woman, you can buy a customized bathrobe. For the work out addict, you have a set of customized sweatpant collection, from jackets to bottoms. They also offer colorful gym bags with the trademark Cupcake emblazoned on its side. Cupcake Boutique also caters to babies, with cute onesies featuring adorable slogans and baby caps to match!
To get your Cupcake fix today, visit their store in the basement at Galleria 2000, Salmiya. You can also visit their site or call them at 5710985. Plans to expand into a more bustling location are under way.
Originally uploaded by Kuwait-style.com