By
GreenEyedLillies
on April 10th, 2008 . Filed under:
Baby
,
Gifts
.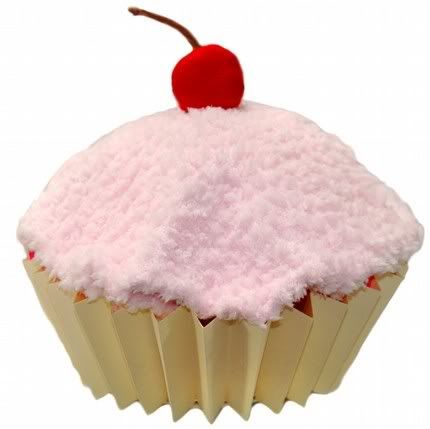 French Vanilla Diaper Cupcake TM with Cherry Buttercream Frosting // Etsy Collaboration with LuLusWoobies $60.00
Even babies love cupcakes–especially with a cherry on top!
Original :::icing on the cake::: design — an Etsy collaboration with the amazingly talented LuLusWoobies!
This gift is perfect for a baby shower or new mom. This will get lots of 'oohs' and 'aahs' at the shower, and will be treasured by mommy and baby!
The 'frosting' is a beautiful handcrafted pink cupcake mini blankie (with supersoft pink minky) from LuLusWoobies — the perfect size for infant-to-toddler snuggling and loving (14″x14″). The delicious cupcake print is perfect for any sweet little girl! And the hand-stitched felt cherry on top will be a fun addition to a play food set in a few years' time.
Carefully tucked inside are 20 premium diapers (Pampers Swaddlers size 1, 8-12 lbs).
The cupcake liner is hand-folded vanilla cream paper, stitched with embroidery floss to the paper base.
This boutique-style handmade gift is practical (every new mom could use a few more diapers!) and the lovely blanket is sure to be treasured for years.
Check out LuLusWoobies' Etsy store for more beautiful handcrafted blanket, bib and soft toy masterpieces!
(There's even a pink cupcake bib made from coordinating fabric!)