By
GreenEyedLillies
on April 9th, 2008 . Filed under:
Home Decor
.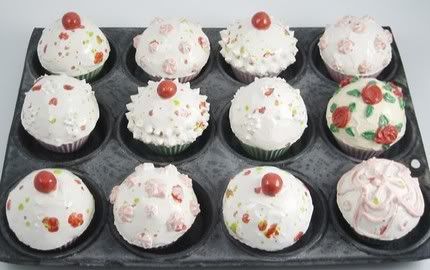 Hello pretty cupcakes! Here is a listing for one dozen where she will custom make you one dozen cupcakes with your choice of color scheme. See pictures as an example. A dozen cupcakes would be great as a place holder in your cake stand for display or for party favors at your next party. I love that they have zero calories! She hand built these ceramic cupcakes – they are life size 3×3 inches. $120.00 for one dozen.
Please note: She will deactivate her "custom order only" items for sale on April 23rd. They will available again May 15th.
Available here at Artreverie's Etsy store.