By
cupcake girl
on March 19th, 2008 . Filed under:
Accessories
.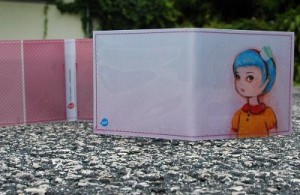 Doesn't she look good enough to eat?

Emily Martin aka The Black Apple is our absolute favorite (sorry guys) Etsy artist and we are proud to present her work to you in this nifty and portable format. See more of her work in her shop The Black Apple Etsy Store.

This wallet utilizes our "paintswatch on the inside" construction for a snazzy color-coordinated interior. There's is a large pocket for your moolah and 4 pockets for your ID and credit cards.
Size is 3.75 x 4.25 inches closed

Give as a gift or treat yo'self without breakin' the bank!
$15 at TinyMeat Etsy Store.