By
cupcake girl
on February 22nd, 2008 . Filed under:
Baby
,
Crafts
,
Kids
,
Toys
.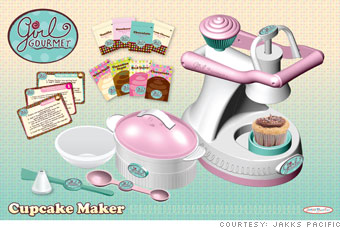 As Seen on Regis & Kelly this morning:
Girl Gourmet: Cupcake Maker
Price: $29.99 / Ages 8 and up
Available: Fall 2008
Maker: Jakks Pacific
Toy industry analyst Chris Byrne said this new cupcake maker from Jakks Pacific could give Hasbro's classic Easy Bake Oven a "run for its money." The product includes a microwave container, cupcake froster, 4 flavored cupcake mixes, 4 frosting mixes, 1 tube of sprinkles, 1 mixing bowl, 1 spoon/spreader, 4 multi-designed cupcake cups, 1 cupcake cup holder and 2 recipe cards.
Available at Toys "R" Us, Walmart, and Target.