By
cupcake girl
on February 15th, 2008 . Filed under:
Recipes
.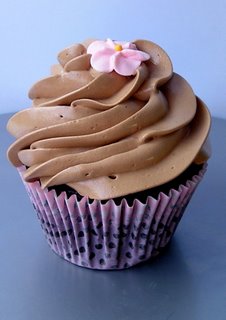 The lovely Gigi, of gigi cakes put together one of my all time favorite combinations, chocolate and raspberry. I have loved raspberries since I was a kid. They have long been one of my favorite fruits. And the chocolate, who doesn't love chocolate? Gigi's Chocolate Raspberry Cupcakes with Raspberry-Chocolate Meringue look and sound down right awesome. Her take on the cupcakes cracked me up, too.
"The cupcakes were so scrumptious and smelled heavenly. They smelled so good that I was thinking this should be a car air freshener. You know, one of those of little trees you hang from the rear view mirror. If you find yourself in the mood for delicious cupcakes and in need of an air freshener for your car, then look no further. (Tee-hee)"
If these cupcakes sound up your alley, please visit gigi cakes for the recipe.