By
cupcake girl
on February 12th, 2008 . Filed under:
Holidays
,
Recipes
,
Valentines Day
.
So I was sitting at work on Monday morning trying to ease myself into the day by reading Women's Day Magazine. Well, reading might be stretching it. To be completely honest I was perusing the pictures. None the less, my browsing totally paid off with a couple three sweet Valentine's Day recipes that I just cannot deny are P-E-R-F-E-C-T!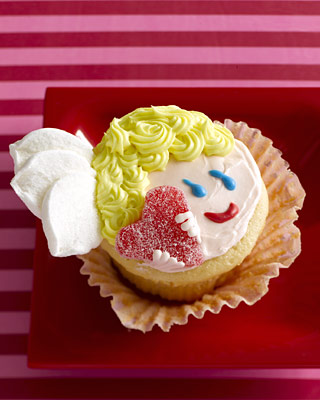 The first of these marvelous morsels is the Cupid Cupcake, and yes it is just as adorable as it sounds, take a look! Now if that guy is not cute I don't know what is. The recipe for this delectable dude can be found here. The Cupid Cupcake is sure to be a thrill among any and all who believe that, "Love is like Oxygen. Love is a many splendid thing-love lifts us up where we belong! All you need is love," according to Christian (Ewan McGregor's character in Moulin Rouge).
The next recipe makes me wonder, would a rose by any other name smell just as sweet? I, like Juliet, believe yes! Furthermore, these Rose Petal Cupcakes are super-sweet with their pastel pink frosting and sugared petal adornment. They offer an air of sophistication, but don't be skittish, they are easy as one two three with Women's Day's recipe. Don't take my word for it,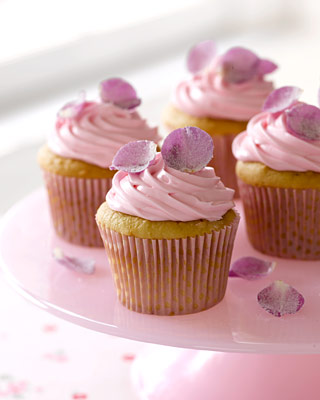 head on over the the site and find out for yourself!
The final recipe that caught my eye combines a surprise treat with the classy red velvet recipe. Don't be tricked by their simplistic title, the Red Velvet Cupcakes are an example of complex flavor structure at its best. These beautiful little cakes are comprised of a red velvet batter, which is host to a surprise hug (of the Hershey's variety), and are topped off with a delectable cream cheese frosting. Makes my mouth water just typing it up! You can garnish the top with any heart-decor to make the stunning statement, "It is only with the heart that one can see rightly, what is essential is invisible to the eye," by Antoine de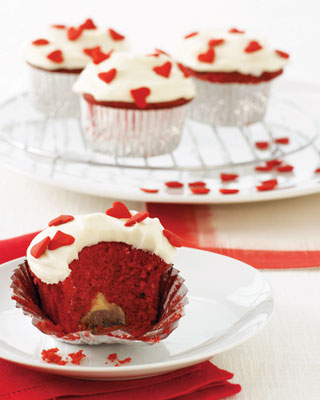 Here is wishing you good luck with whatever sweet endeavor you set forth to accomplish this Valentine's season. More importantly, here is wishing you love, in all it's many shapes, sizes, and forms, I hope your day is magical!
Most Sincerely,
Maggie Ann.
(All photo's courtesy of Women's Day Magazine. Photos 1 & 2 are cited to Charles Schiller and photo 3 to Anastassios Mentis.)