By
cupcake girl
on February 9th, 2008 . Filed under:
Recipes
.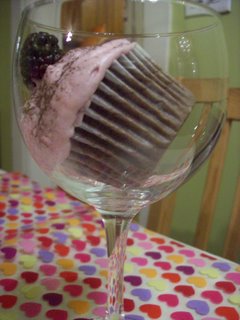 Mary of Shazam in the Kitchen created something I have been waiting for, a Red Wine Cupcake. Seriously, does it get better than wine and cupcakes together? They are uber cute too!
Mary had this to say about her brilliant cupcake:
I based this cupcake on my favorite flavor of ice cream. Well sorbet really. Ciao Bella's Blackberry Cabernet sorbet. Super yummy. I found a recipe, that I seriously tweaked for a German Rotweinkuchen (red wine cake). I also had on hand a 4 pack, ok 2 left from a 4 pack of Funky Llama cabernet little bottles. I happened to run across some beautiful (and cheap) blackberries at Trader Joes when my friend S was in town. It was like these beautiful little cupcakes were meant to be. The cupcakes really turned out delicious. Plus by the second day, the red wine flavor came through better.
For the recipe, please check out Shazam in the Kitchen.