By
cupcake girl
on February 1st, 2008 . Filed under:
Books
,
Decorating
,
Recipes
.
You're not the only one! So is industrial designer and Art Center College of Design in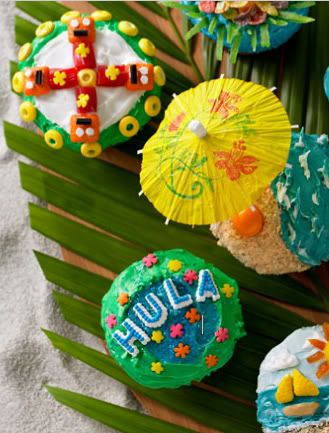 Pasadena professor Krystina Castella. It all started with a tiki-themed potluck according to Krystina, on crazyaboutcupcakes.com, she was assigned the job of "baking something" and she chose cupcakes. Why? Because, "Cupcakes are friendly! Cupcakes are stylish! Cupcakes are nostalgic! Finally, cupcakes are portable!" And quite right she is! Cupcakes are a perfect little, little dessert. Especially Krystina's tiki cupcakes, which ended up being a big hit at the party. After such success Krystina decided to accompany many other celebrations with cupcakes. A block party? An art opening? A ninth-birthday? A Halloween party? How about an Academy Award party? The answer, cupcakes, cupcakes, cupcakes! Now thats my kind of girl!
According to Krystina, "I see cupcakes as art. I consider all three parts -the cake, the icing and the decorations- all work together to make a good cupcake experience." Over the next five years she developed thousands of recipe and decorating techniques. Lucky for us 300 have made it into her book titled, of course, Crazy About Cupcakes.
Crazy About Cupcakes is available to order through Amazon and Barnes & Nobel (visit
this link for the sweet treat of peaking inside the book). This book has it all, "whether they're chocolaty, spicy, crunchy, fruity, or creamy, these exquisitely decorated treats look as astounding as they taste—perfect little temptations designed to make adults nostalgic and children happy." Also, if you order from Amazon you can get not only Crazy About Cupcakes but also, Super-Duper Cupcakes: Kids' Creations from the Cupcake Caboose for only $22.16!
What some more? Well, you are in luck! Krystina's website is a plethora of cupcake how-to goodness. It "offers inspirational recipes and decorating
techniques for cupcake lovers who enjoy the process of baking and decorating as much as sharing and eating their artistic creations. It features tips, techniques and skills needed to design cupcakes that are uniquely your own. " Currently showcased on the website are such yummies as tiered cupcakes, candy cupcakes, tiki cupcakes, and a sweet selection. Krystina also outlines decorating techniques basket weave and chocolate leaves. Furthermore, you can deepen you knowledge of cupcakes by looking into the link labeled Cupcake Basics and add some amazing new recipes to your collection perusing the Recipes link (both links under tab Learning & Recipes).
With its intricate weaving of art and cupcakery the whimsical Crazy About Cupcakes website is sure to enchant you for hours, make you mouth water, and leave you with heaps of sweet inspiration!
(All images are from www.crazyaboutcupcakes.com)